Buying Your Very First Vintage Tractor: Choosing the Right One
Category: Tractor,
Posted Date: Feb 22, 2011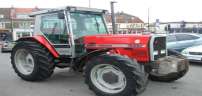 There are numerous reasons for buying a vintage tractor. They are relatively less expensive. Also, they are still of use when it comes to doing work. They are simple and understandable. Sometimes people buy these tractors as a prized acquisition.
For people who require a tractor for the purpose of farming choosing a tractor is more judicious process as they would have to estimate the strength of the machine with more accuracy. Depending on the type of farm and the crop that you are planning to harvest you should choose your tractor. If you are going to use the machine, you should first understand the horsepower requirements of this implement and make sure the tractor you select has the right weight and the correct horsepower to do the job. Once you have chosen your model, you can work on its looks and get it worked up or have it worked up by the dealer as per the deal.

When buying, make sure that your tractor performs all the basic tasks properly, so check the steering, gears, forward and reverse, PTO, lift, lights, indicators and hydraulics. The basics of the machine can be tested by going through a few checks. Check for its start, a tractor that starts easily may rule out several items in one go. Good battery, compression, ignition wiring / magneto, tune up, fuel flow, carburetor can be assured (not guaranteed) by this. Also check for its running when the engine is hot as by doing so you will get to know how the machine will behave after having ploughed the first row. Have a look at the condition of the electrical components, breaks, oil, clutch and make sure that they are in good condition. Last but not the least, pay attention on the sound made by the engine. If the sound is a heavy one then there may be a serious damage to the machine and would require expensive repairs. For the test ride you should go with proper knowledge about the machine or take an expert with you. Being captious can also lead to reduction in the price.
The best option for buying a working tractor is either to buy one that is still in use since it would ensure that the engine is still functioning properly. For a machine that has been in dormant condition for too long it would be even difficult to check.
Comments
No Any Comments Found!