When To Use Refrigerator Trailer Or Flatbed Trailer
Category: Truck,
Posted Date: Dec 27, 2010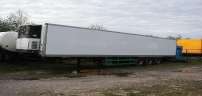 When you want to merchandise across the country, a lot of options will be in front of you at the time of booking your truck. Most courier companies combine the whole amount of goods ranging from the small packages to the large ones. For starters, in the situation you are not sure of what something means, be free to ask your courier service for a detailed explanation.

When you are using the LTL (less than track load) to trade your load, you will have to combine your load with those of others in order to produce a full track load for the entire or most of the journey. However, if you have FTL (full track load) to fill the truck you will be asked by the company whether you need a flatbed trailer or refrigerated trailer.

Difference between Refrigerated Trailer and Flatbed Trailer
Refrigerated Trailers are used in transporting perishable goods that need to be kept in cool conditions during a long journey. The goods that require controlled temperatures when being transported includes food products such as seafood, fresh meat, fruits and vegetables and medical provisions. Since they are perishable goods they must be transported at a fast rate to prevent spoilage. Businesses that possess huge farms serve as the valued clients of the refrigerator trailers. It requires food to be kept in cool temperature or they could lose all of their earnings in just one single truckload.


On the other hand, a flatbed trailer is extensively used to carry very large and heavy items that are not easy to be fitted into a normal trailer. Flatbed trailers look as they sound. These are widely used to transport huge pieces of industrial machinery, vehicles or even buildings across the country. The item to be carried is usually over size and requires a pilot vehicle in the lead. This is an additional cost on the client and this service is mostly availed by suppliers of machineries.
Now, while making your decision on which vehicle you need for your purpose, you will be well informed and be able to choose a transportation service that works best for you.
Comments
No Any Comments Found!