Used Tipping Trailer
Category: Trailers,
Posted Date: Dec 30, 2014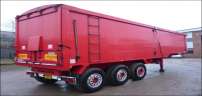 Trailers are commonly an unpowered vehicle that can be towed by a powered vehicle by attaching it to the back of the vehicle. Tipping trailers are usually used for transporting different types of goods and materials, which can range from loose materials such as sand or gravel to boats, motorcycles, or cars. Nowadays some recreational vehicles, travel trailers, etc. where people can stay with limited living facilities are also called as trailers.
Different types of trailers – Today there are different types of trailers available in the market. Some of the commonly used trailers are – construction trailers, travel trailers, boat trailers, semi-trailers, close-coupled trailers, full trailers, and tipping trailers. The price range of these trailers differs from each other. The price factor is also dependent on the brand of the trailers. These days, many companies provide a platform for the buying and selling of Used Trailers Online.
Used Tipping Trailer – There are many reliable Used Tipping Trailer Suppliers and exporters across the globe. The used tipping trailers usually consist of an aggregate tipping body, and a front-end tipping ram. These tipping trailers are equipped with a full disc braking system that ensures its safety and effectiveness. Some other notable features of the tipping trailers are its dual speed landing legs that acts as an extra pair of legs of the vehicles and helps in the extension and retraction of the trailers body. The tri axle tipping trailers come with an excellent engine and a strong chassis, which is why they are highly durable and reliable. Many companies provide these used tipping trailers at very reasonable prices, and few provide them at the most competitive market prices.
Tipping trailers have proven to be very useful for the transportation of different types of finished and raw products, materials, goods, and even livestock for that matter. The modern additions to the tipping trailers have made them one of the most popular trailers among the people. A tipping trailer can be considered as a must for anyone involved in any kind of business wherein you are required to transfer or bring in materials to and from different places. Hence, a Used Tipping Trailer can turn out to be a very wise decision.
If you are searching for a reliable Tipping Trailer Supplier and Exporter from UK, Goldworks International (UK) is the name to remember. The company offers a wide range of choices in Used Tipping Trailers to interested buyers. The Used Tipping Trailers available with this reliable Flat Bed Trailers Supplier in UK are in the best of condition & offered at competitive prices. For more information about the company, visit http://www.euroasiatrucks.com
Comments
No Any Comments Found!