About Vacuum Trucks
Category: Truck,
Posted Date: Apr 11, 2014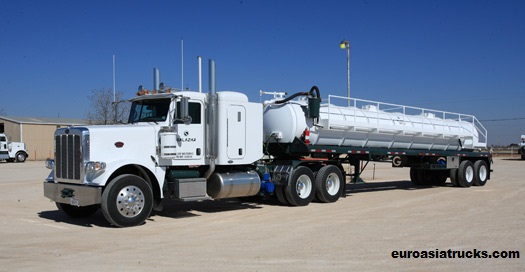 A Vacuum Truck is a tank truck which is equipped with a vacuum pump assembly that can build up high pressure vacuum which is ideal for removing liquids, sludge, powders or any dry material. These trucks are mostly used by towns and municipalities for street cleanup, individual septic systems and sewer drainage.
Vacuum Trucks are known to handle a range of materials and conditions which facilitate any cleaning project. While collecting materials containing dust and debris, these trucks use a series of vacuum pumps to control and capture fine materials and reduce exhaust contamination. These trucks also come with dual pumps which are highly efficient in pumping out sewers and lavatories.
Vacuum trucks are widely used for:
Cleaning up the streets and sewers
Cleaning up contaminated soil
Cleaning up storage tanks and spills
To remove drilling mud, cement, spills, drilling cuttings
Removal of brine water from production tanks
Cleaning sanitary sewer lift stations and for pumping out grease interceptors
More on Vacuum Trucks
They are used to pump anything from residential septic tanks to contaminated soil. These trucks are sometimes also classified on the basis of the materials they can pump, like wet or dry materials, capacity, weight and many other factors. These trucks are usually purpose built for heavy duty work.
Working of Vacuum Trucks
Vacuum Trucks basically consist of a storage container and suction motor. The motor can be powered by the engine truck, gasoline or diesel motor.
The pump on this truck is operated by a power take off from the engine or a motor. Power take off is a drive shaft which is connected to the drive train of the vehicle. When the truck is stationary, power is taken from the wheels and transferred to the power take off. This is used to power different items such as the vacuum pump on the truck. The power take off uses a belt or hydraulics to drive the pump.
In order to facilitate pumping, the truck is equipped with some type of boom. When the pump tube is fastened to this boom, it is easier to position it over the material which needs to be suctioned out. This is helpful in cases when debris needs to be vacuumed out from a septic tank in a backyard or a drill site.
Goldworks International (UK) Limited is a well known Supplier of Used Trucks and Equipment. The company offers Used Volvo Trucks, Used ERF Trucks, Used Tractors, Vacuum Tank Trucks, Used Nissan Cars and many more. The entire range of second hand trucks offered by the company is sourced from prominent brands. To know more about the company, log on to http://www.euroasiatrucks.com/.
Comments
No Any Comments Found!