Dump Trucks Are The Lifelines Of Construction Industries
Category: Truck,
Posted Date: Feb 27, 2013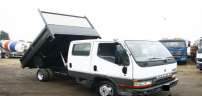 Dump trucks are truly the lifelines of construction industries. The Dump Trucks are designed for hauling of construction materials and for excavating earth and rocks. In addition to that, they also show excellent performance by exerting low ground pressure on rough roads. They are very important to the Construction Industry as they pass on the very materials required for any construction. Without its excellent lifting and dumping power, the construction industry would have suffered a major setback as they have made construction sites much easier and productive.
Role Of Dump Trucks In Construction Industries
The Dump Trucks are used extensively in the construction industry for effectively moving construction material from one place to another. The wide variety of particles that can be transported varies according to the kind of work and the relative industry that the truck is assigned. Dump Trucks come with powerful engines and are massive vehicles for providing convenient and flexible in re-locating substances like gravel, dirt, and sand in transit. Sometimes these Used Box Truck even carry substantial loads of dirt to sites that conduct underground operations for dealing with pipe repairs and additions.
Equipped With The Right Power
Dump Trucks are equipped with hydraulically powered lift gates that allow them to carry as well as deposit considerably heavy loads. The hydraulic mechanism helps the trucks to effectively dump the required materials with utmost efficiency. The USP of the truck is the fact that the 'bed' of the truck can be effectively lifted at certain angles for accurate placement of materials. In addition to these useful properties, the Dump Truck is well equipped for on-the-site cleanup easily and within a short time.
Goldworks International UK Ltd (euroasiatrucks) is a noteworthy British company with global experience in the Trucking, Mining, Agriculture and Construction Industry. The company is a leading supplier of Used Dump Trucks, Used Farming Equipment, Used Mining Plant Equipment, Used Trucks for Export, Complete Used Engines And Used Gearboxes, Used Generators, Used Compressors, New And Used Truck Spares in UK. It is also known for the sturdy Used Dump Trucks that it offers at the most amazing prices. For more information, you can log on to
http://www.euroasiatrucks.com
.
Comments
No Any Comments Found!