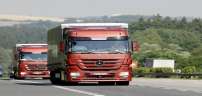 In this age of rapid inflation, economical alternatives have surfaced as a major way to cope with the growing budget concerns. Price hikes have not spared even natural resources. Fuel prices have touched unprecedented highs. Transportation is getting costlier and at the same time, the prices of heavy vehicles too are soaring. Such circumstances lead those in the transportation industry to go for cost cutting measures. One of the smart ways to keep tabs on expenditure is to Buy Used Trucks in case the new ones seem out of reach. But, Buying a Used Truck can be a risky proposition and as such there are certain things to consider when planning the same.
Analyse Your Requirements:
Aspects such as what will be the truck used for, how long will it be kept, any specific model, maintenance budget, etc. should be carefully contemplated over before reaching to any conclusion. Often budget constraints may force you to compromise on some of the aspects but again a bit of planning can yield better alternatives.
Know Where To Look For Used Trucks:
Often, scouting for Used Truck in UK is quite demanding. You should know the right places for fruitful results. Following are some of the options you can rely upon:
Online Directories & Portals
Car Rental Agencies
Used Truck Dealerships
State & Public Auctions
Bank & Loan Companies
Private Owners
Evaluation Of Truck's Condition:
Perhaps, this is the most crucial stage when Buying Used Trucks and demands technical proficiency on the part of the buyer. It is advisable to take a trusted mechanic for a comprehensive inspection of the overall condition of the Used Truck.parts, interiors, tyres, battery, mechanical parts, engine, fluids, shock absorbers, doors, windows, etc. should be thoroughly examined to avert expenses on maintenance in future.
Finalising The Deal:
The prerequisite to finalising the deal is to carefully go through all the documents and have proper understanding of the written agreement. Make sure that the warranty and a signed statement verifying the mileage at the time of sale are categorically mentioned in the documents. Take legal advice if need be.
Goldworks International UK Ltd (euroasiatrucks) has made a distinct mark in the market as a noteworthy Supplier of Used Volvo Trucks,
Used Nissan trucks
, Renault Trucks UK, Used Lveco Trucks, Used Mercedes Trucks,
Used Scania Trucks
, Used DAF Trucks, Tipper Lorry in UK. The Used Trucks are graded, according to a quality system developed by GOLDWORKS International Ltd. that ensures value for money and quality. For more information, one can log on to http://www.euroasiatrucks.com.