Types Of Used Commercial Trucks
Category: Used Truck,
Posted Date: Aug 22, 2012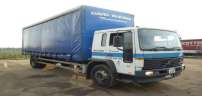 Used Commercial Trucks are also important requirement in transportation industry. Various Used Commercial Trucks are modified to perform different functions. Commonly, the classification of Commercial Trucks is based on the vehicle's Gross Vehicle Weight Rating. GVWR is the total weight of the truck when fully loaded. According to this classification Commercial Trucks are divided into 8 classes. Classes 1 to 3 are grouped into Light Duty Trucks, classes 4 to 6 are grouped into Medium Duty Trucks and class 7 and 8 are grouped into Heavy Duty Trucks.
A huge variety of Used Commercial Trucks are available varying in their capacities. Some of the major types of Used Commercial Trucks are as follows:
Used Tipper Truck
A Tipper Truck or a Dump Truck is equipped with a hydraulically operated open box. This can be raised at the front end so that the loaded material can be deposited. In UK the term Dump Truck usually applies to off-road construction plant only and the road vehicle is known as a Tipper or Tipper Lorry. One can opt for Nissan Tipper Truck, Mercedes Benz Tipper Truck, Used Renault Tipper Truck, Used Volvo Tipper Truck, etc.
Used Box Truck
Box Truck typically has a box-shaped cargo area that sits on the frame. Box Trucks are known as Cargo Trucks, Cube Trucks And Straight Trucks. A Box Truck usually has a rear garage like door for easy loading and unloading. Box Trucks are used to carry heavy items such as furniture, appliances and large boxes.
Used Bucket Truck
A hydraulic lifting system is mounted on the back of the truck. At the end of the hydraulic lifting system, a bucket is attached. The bucket is designed in a manner to enable a person to stand and work. By using Bucket Trucks, power linemen can accomplish their tasks in an efficient and safe manner. Bucket Trucks are majorly used in mining industry, construction, electronic industry, etc.
Commercial Trucks are known for their great utility and performance. There is a wide variety of Used Commercial Trucks that come with latest features like GPRS and satellite tracking solutions. This enables to keep a watch on the truck. One can easily monitor speed, mileage, fuel, planned authorized routes, etc.
Goldworks International UK Ltd (euroasiatrucks) is a wholly British owned company with a huge reputation in the trade of Truck Exports. The company is among the leading suppliers of used tipper trucks, used farming equipment, used mining plant equipment, complete used engines and used gearboxes, used generators, used compressors, new and used truck spares in UK. For more details regarding the offerings of the company log on to
http://www.euroasiatrucks.com/
.
Comments
No Any Comments Found!