Used Trucks For Sale
Category: Used Truck,
Posted Date: Dec 20, 2012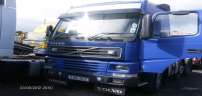 There is a huge wealth of information about Used Trucks on the Internet and just by typing Used Trucks For Sale in a search engine, one can come across a range of options. One should keep in mind transportation needs along with the budget of course, before starting this search. Apart from browsing online, newspaper ads and magazines also serve as an effective medium for access to relevant information. Along with the detailed instructions for making pre-purchase inspection, other necessary information can also be found in these ads. Going through auto-related magazines that come with extensive reviews and analysis will definitely help in making the right pick. After comparing different makes and models in terms of engine performances and expected life, one should decide upon a particular Used Truck.
Online space is the ideal platform for comparing Used Truck models, options, and costs, and offering information about frequency-of-repair records, safety tests, and mileage.
Payment Options
The payment option is another vital category that should be kept in mind before zeroing in a particular site offering Used Trucks For Sale . Of course, with finance, the total cost increases with the addition of interest and other loan costs. Different companies provide different payment options as per the convenience of the customers.
Dealers and Lenders
The dealers and lenders offer diverse loan terms and schedules and one should compare offers and settle for the best deal. The advertisements offering financing guidance to first-timers must be carefully analysed and approached. These offers bring big down payment and a high APR along with them; that leads to big risks.
Used Trucks For Sale – Points To Be Kept In Mind
Whether the Used Truck is being sold "as is" or with a warranty
What percentage of the repair costs a dealer will pay under the warranty
To get all promises in writing
The major mechanical and electrical systems on the Used Truck, including history of some of the major problems
Have the Used Truck inspected by a trusted mechanic before buying
Goldworks International UK Ltd. (euroasiatrucks) is a British owned company widely acclaimed in the trucking, mining, agriculture and construction industry. It has been a leading supplier of Used Tipper Trucks, Used Farming Equipment, Used Mining Plant Equipment, Complete Used Engines And Used Gearboxes, Used Generators, Used Compressors, New And Used Truck Spares in UK. The company provides reliable Used Trucks For Sale in excellent running conditions at the most competitive market rates. For more information regarding the company and its offerings, one can log on to
http://www.euroasiatrucks.com
.
Comments
No Any Comments Found!