Used Trucks And Where To Find Them?
Category: Used Truck,
Posted Date: Dec 20, 2012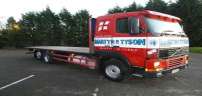 Trucks are extensively used across diverse industries for trucking, mining, agriculture and construction purposes. The increasing need for trucks new as well as used has led to the popularity of different Suppliers Of Used Trucks. Budget concerns made way for the rise of the Used Trucks business as more and more people now prefer to purchase Used Trucks that are cheaper. Many of Used Trucks Suppliers offer competitive rates for delivery to most of the ports and onward shipping along with help in documentation. The first thing that one should keep in mind while looking out for Used Commercial Trucks Suppliers is the running condition of the trucks as most of them sell them in 'as is' condition. The Used Trucks should not only look new but also perform effectively ensuring a longer service life.
Online Sale Of Used Trucks
The perfect cost-effective alternative to a new truck is definitely a reliable Used Truck. Rather than running from pillar to post on the lookout for the desired Used Truck, the ideal thing to do nowadays is to sit with your computer, go online and browse through the range of websites that are providing an effective platform for Buying And Selling of Used Trucks. From sharing information about prices to listing the specifications along with proper pictures, these online sites have definitely reduced the physical distance between prospective Buyers And Sellers of Used Trucks.
One must also be careful in selecting a particular Supplier of Used Trucks and should ensure that the particular company offers services concerning the sale and after-sale period.
Points To Consider While Buying Used Trucks
What will you use it for?
How long you plan to keep it?
The model you need
Your budget
Your budget for maintenance
Never overlook defects
Safety concerns should be the priority
Take a trusted mechanic for thorough inspection
Online sites offer different makes and models to suit various industrial and commercial requirements and the easy to user interface is a vital thing in this regard. Many of the sites lack in proper information along with haphazard listing. One must choose a site that has complete and up-to-date information along with comprehensible categorising that will make it easier to locate the particular Used Truck of choice.
Goldworks International UK Ltd (euroasiatrucks) is a leading Supplier of Used Tipper Trucks, Used Farming Equipment, Used Mining Plant Equipment, complete Used Engines and Used Gearboxes, Used Generators, Used Compressors, New and Used Truck Spares in UK. The company has increasingly been providing reliable service to business and private individuals for transporting and shipping trucks and trailers to any destination in the world at the most reasonable prices. For more information, the company's website can be accessed at
http://www.euroasiatrucks.com
.
Comments
No Any Comments Found!