Where To Find The Best Deals On Volvo Trucks For Sale?
Category: Used Truck,
Posted Date: Jan 15, 2013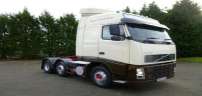 If you are looking for the best deals on Volvo Trucks and wondering where to find them then this is just the right place for you. First thing that you need to decide is the reason why you need the particular Used Volvo Truck. Your budget requirements and the mileage you expect from the truck is vital in making you decide on the right truck.
After that, you can think about the places that you need to search for the best deals.
Auctions
A good place where in all probabilities you will come across some of the best Used Volvo Trucks For Sale in the market. These auctions often sell almost-in-new condition Used Vehicles at the most reasonable price range. You can easily visit an auctioning site and bid for the vehicle of your choice.
Private Dealers
They might be small in comparison to the other big establishments but can prove to be quite effective in locating some of the best quality
Used Volvo Trucks
For Sale. Private Dealers can guide you in making the right pick, as you will feel quite at home to systematically inspect the vehicle without any hassle of crowded buyers.
Individual Sellers
You can come across them through various sources, right from the newspaper classified ads to the word-of-mouth information. These sellers are perhaps one of the most reliable sources of Used Volvo Trucks. You can always form a personal bond of trust and take him into confidence for effective evaluation of the particular Used Truck.
Online Sites
Nowadays, a plethora of information is available online as different online sites and portals have come up to provide some of the most reliable and classified information on some of the Best Deals On
Volvo Trucks For Sale
. These sites generally have exhaustive information about the specifications and features of the Used Trucks properly enlisted along with appropriate photos.
Goldworks International UK Ltd (euroasiatrucks) is a widely acclaimed British owned company with extensive experience in the Trucking, Mining, Agriculture and Construction Industry. The company is a reliable supplier of Used Tipper Trucks, Used Farming Equipment, Used Mining Plant Equipment, Complete Used Engines And Used Gearboxes, Used Generators, Used Compressors, New And Used Truck Spares in UK. You can easily find the most high-quality Volvo Trucks For Sale in their website. For more information, one can log on to http://www.euroasiatrucks.com.
Comments
No Any Comments Found!